Micromobility
Wheeled type of transportation that is low-speed, operated by a single person, and meant for travel over a short distance.
Microlino company car
11. July 2023
The intention for integrating this new vehicle into our delivery chain was to reduce cost, fossil fuels and time visiting our customers. We wanted to achieve these ambitious goals following a triple bottom line approach: The term triple bottom line is an approach for companies to establish and maintain long-term principles of sustainability in corporate policy. The approach is also called the three-pillar model in the literature and consists of the three pillars of #economy, #ecology and #social affairs. Our expectations were fully fulfilled. We could reduce time and cost for travelling and using the #microlino for client visits seems to be very attractive for our employees.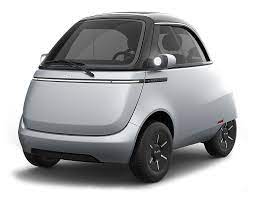 Ready to be a pioneer
19. March 2023
The Microlino is a space-saving, electric bubble car with: Two seats, range of around 230 km, 12.5 kW power and top speed of 90 km/h.