Manage your Design History File Documents (DFH)
Future Link offers licences and services for these products
Local, Cloud or SaaS based
Whether you want to use the tool in the cloud, as a SaaS based service or installed on your own server in your data-centre: You chose the best installation option for you. We support you withe the technical implementation.
All parts of the documentation in one place
Aligned Elements has been developed to manage the development documentation for medical products following standards and regulations such as ISO 13485 and FDA QSR 820.
All Design Control Items are stored in one single database. Aligned Elements ALM can manage the large numbers of dependencies wich are characteristically for a Design History File in an efficient and seamless manner.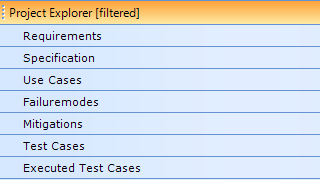 Seamless Traceability with Real-Time Impact-Analysis
Intuitive Development of traces combined with a clear visual presentation leads to great transparency of the quality of your documentation.
Automatic creation of Traceability-Tables saves hours of work. Integrated control mechanisms finds objects without traces and highlights suspect traces.
Verify Consistency and Completeness
Aligned Elements checks content for Gaps and Inconsistencies.  A report may be created at any time of the project.
Automatic generation of reports and documents
All data may be exported into MS Word.  The presentation may be changed. There is a large lost of templates available for Traceability Tables, Risk Analysis, Review Protocols, DHF Index, Risikomatrix and much more..
The integrated document management system manages all documents of the document history file (DHF) and is version. It underlays a flexible consistency control like all other parts of the system.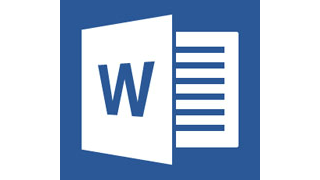 ISO 14971/EN 62304 Risk Management
The flexible integrated FMEA and Preliminary Hazard Analysis Module allows the execution of  conform risk assessments and linking to existing traces.
Automated quality checks show insufficient mitigated risks and non implemented measures. The risk analysis may be linked with the Security-Classes of  IEC 62304.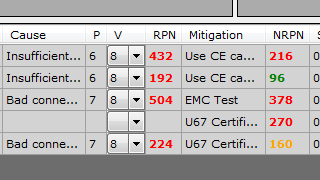 Developed for Regulatory Compliance
Aligned Elements has been developed with the goal to implement the standards and regulations of the medical technology industry.
It has been designed to simplify the mile-stones and audits, to document specific versions of the documentation and it contains a DFH Index with automatic tracking of the project progress.
The integrated design review support allows efficient reviews, digital signatures allow lean release processes and the regulatory checklist-assistants guide you through check of your data.
Anytime, Anywhere
Aligned Elements can be used for distributed workplaces. The Windows Client is simple to use and the web client allows quick access anywhere.
Modern multi-function team are profiting from the transparency and the quality oriented mechanisms in Aligned Elements. Gaps and Inconsistencies are detected early and can be removed without time pressure.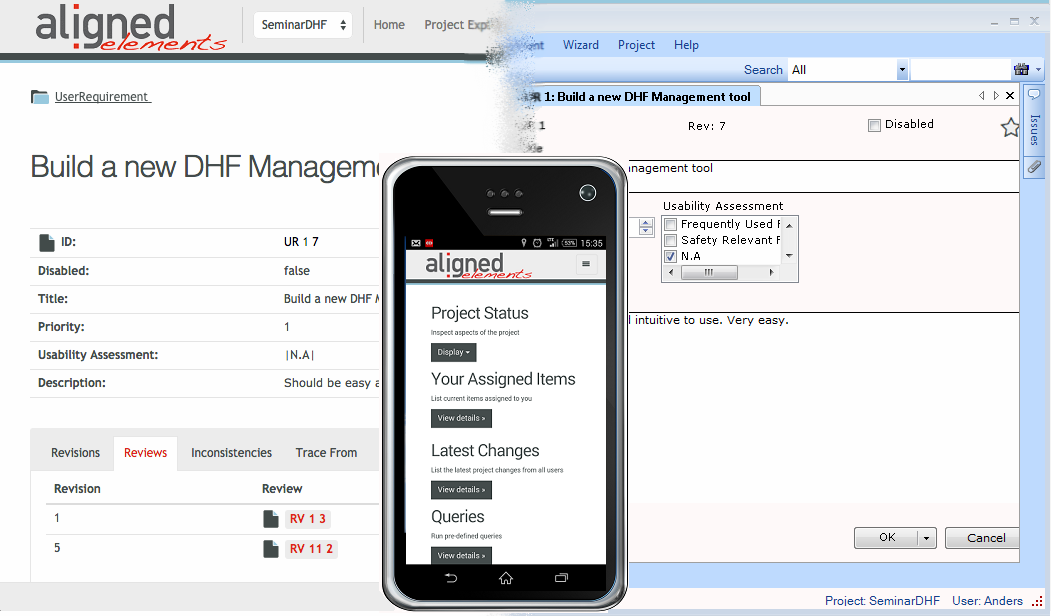 Flexible and integrated
Aligned Elements is process-independent and very flexible regarding Notation and configuration of reports. It may be seamless integrated into an existing working environment.
Aligned Elements may be integrated with other Software such as an Issue Tracker, a Design or Development Applications such as for example Enterprise Architect, GIT, Atlassian Jira, Trac, Countersoft Gemini or Microsoft Team Foundation Server. 
Re-Use
Aligned Elements allows the re-use of existing modules through linking of projects and elaboration in different applications. With this feature, single modules may be merged to one complete DHF and the modular documentation may be used in different products.
Contact
Tell me more about this